Alafia pharmaceutical and medical equipment's, A leading Libyan pharmaceutical company that has been proudly serving the healthcare industry since 2004.
With a strong commitment to improving the well-being of individuals, Alafia has established itself as a trusted name in the market.
One of the key factors contributing to our success is our strategic partnership with multinational companies and Libyan health care system, which allows us to access cutting-edge innovative solutions.
Our operations reflects our dedication to upholding the highest standards of integrity and quality in everything we do. Furthermore, our growth strategy is deeply rooted in A patient-centric approach, ensuring that our products and services revolve around the needs and well-being of the patients we serve.
At Alafia, we believe that our success is driven by our people and culture. We foster A dynamic and inclusive work environment that encourages collaboration, creativity, and continuous learning.
With a passionate team of professionals, we are committed to advancing healthcare and making a positive impact on the lives of Patients Across Libya.
Alafia group, founded in the early 1990s, has A rich history in the healthcare industry. As A family business, our primary focus has always been on providing exceptional healthcare services.
In 1994, Alafia group achieved a significant milestone by opening the first private hospital in Libya, known as Alafia clinic.
This state-of-the-art facility revolutionized healthcare in the country, offering advanced medical treatments and services to the local community.
The founder of Alafia clinic " Mr. Ahmed Addala ", played A pivotal role in the establishment and success of the clinic.
His vision and dedication to improving healthcare standards in Libya led to the creation of a healthcare institution that prioritizes patient care and satisfaction.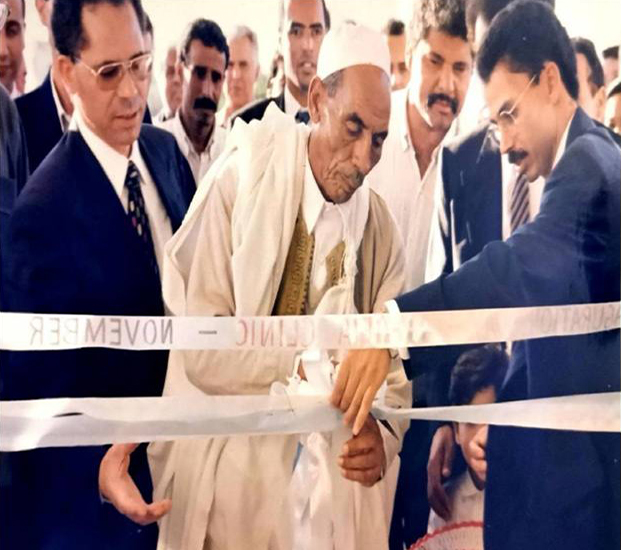 Alafia Philosophy
" Through Alafia Pharmaceutical And Medical Equipment, We Are Committed To Advancing Healthcare In Libya .
Our Mission Is To Enhance Access To Life-saving Medications To Improve Patients And Care Givers Lives, With A Patient-centric Approach And A Focus On Execution Excellence, We Strive To Make A Positive Impact On Healthcare Outcomes.
Together With Our Dedicated Team, We Are Proud To Contribute To The Well-being of Individuals And The Development of The Healthcare Industry."
Dr. Fawzi Addala, Co-Founder and CEO of Alafia Pharmaceutical And Medical Equipment